Greetings to all from your Table Rock Fishing Guide, Glenn Rosser! It's our hope that all of you have a great 2018!
The air is cold (9 degrees this morning) here in the Ozarks and the lake has ice on it in some places but it's good to know that spring will be here before you know it. 
Now is a good time to go through your inventory of baits and tackle and prepare them for your springtime fishing. Make sure you are keeping the batteries in your boat charged as this is the time when they can actually freeze if discharged. 
For those who would like to get out of the house and see some of the newest fishing and boating products, there are a few that shows that I would like to recommend to you. The Collinsville, Illinois, "Let's Go Fishing Show" takes place next weekend in Collinsville, Illinois. This is a great show and has dozens of tackle manufacturers (big and small) in attendance. I will be at the show  with the folks from Edgewater Resort (Kimberling City, MO) and would appreciate you stopping by.  Come book a Table Rock fishing guide trip or just stop and say "hello"!
On February 9 and 10, The ARC of the Ozarks will have their 10th annual Fishing and Hunting show at the Springfield Expo Center. There will be all sorts of hunting and fishing equipment as well as 4 wheelers, guest speakers and even some moonshine tasting! It ought to be a lot of fun and all the funds raised from the event will benefit their No Limits Summer Camp for those with disabilities.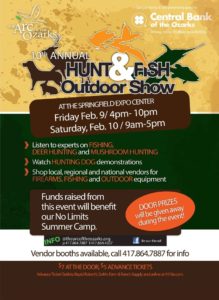 They still have space for more vendors if anyone is interested in renting a booth.
To find out more about The ARC of the Ozarks, contact them at thearcoftheozarks.org
Another event that they will be putting on this spring is The ARC of the Ozarks fishing tournament which will be held April 28th. The tournament will go out of State Park boat ramp on Table Rock Lake. Besides payouts for the winners of the tournament, there will be raffle items and giveaways. There will be a bar-b-que afterwards and we would love to see you there. Again, all money raised goes to benefit those that The Arc of the Ozarks cares for with their No Limits Summer Camp. While this tournament is going on, there will be opportunities for those with disabilities to go fishing on boats provided by the wonderful people at State Park Marina. Come and join us for this tournament. The fishing ought to be good and it will be a time you won't soon forget! 
Now is a good time to book guide trips for this year, especially for those who find their calendars filling up fast. If you are coming to the area for vacation, I look forward to enhancing your vacation experience with a trip on the water.   
Table Rock Fishing Guide, Jan '18