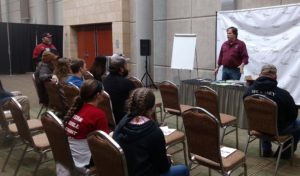 I hope you find this Table Rock Lake Fishing Report helpful for late February and early March fishing. The surface temperature of Table Rock Lake is currently 45 degrees.  The Table Rock Lake water level is currently at 908.46 feet above sea level which is 6.5 feet below normal pool. Fortunately, the meteorologists are calling for up to 5 inches of rain this week which will help to raise the lake level considerably. 
With the pre-spawn beginning to take place within the next 30 days, a steady level will improve the overall spawning results. Though the area was hit with drought conditions last fall, the positive side is that some brush managed to grow along the shoreline. This brush will be make good habitat for the fry when the spawn takes place. 
Currently the fishing is slow but some fish can be taken using jerk baits (fished slowly) or Alabama Rigs. These fish are being caught when there has been sunshine for a couple of days. 
All of this said, it is a great time to get your boat ready and your tackle sorted. 
Take the time to check your boat over thoroughly before taking it to the lake as there aren't a lot of people out there to help you should a failure occur. Be sure to check the hubs on your trailer as well. If you have hubs that require grease, take the time to repack them. Winter is a time when moisture in the hubs tends to corrode bearing surfaces and this can cause overheating and failure. 
As was mentioned in prior report the Arc of the Ozarks Open buddy tournament is planned for April 28th. The proceeds of this tournament go to support the ARC's summer camp for those with disabilities. There will be door prizes and some great items up for raffle. Come join us for this event and support this great cause. There will be no pros or guides in this tournament and everyone should have a great time. 
One last note: The April calendar is filling up quickly with lots of return clients I took fishing last year returning. If you are interested in a trip during this exceptional fishing period here on Table Rock, please contact me as soon as possible.  Let's go fishing!
Table Rock Lake Fishing Report, February 2018